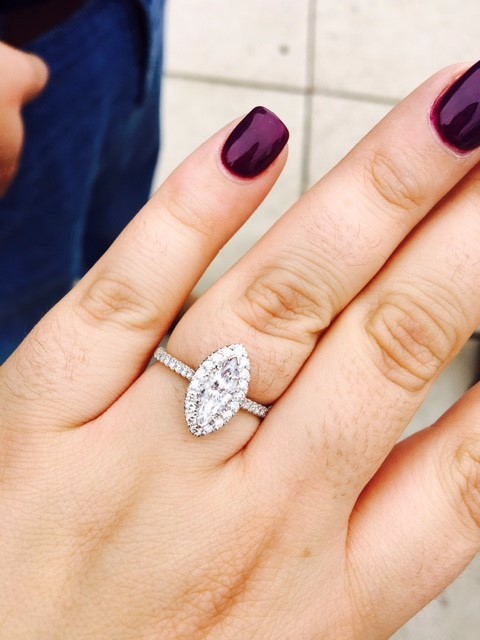 Chris (My fiancé) and I had been living together for a few months prior to the engagement, so although I did have an idea the proposal was coming, I didn't know exactly when. Looking back at the week leading up to the proposal, he was acting very different - nervous, anxious and all types of emotions you would expect. That weekend his brother and sister-in-law came into town to "visit" or so I thought. Really they were here to help plan the proposal and make sure it went smoothly. They are from out of town, so naturally we decided to go to downtown Chicago for a day.
Chris had his sister-in-law hold the ring on the way down to the city. It ended up being a gorgeous Fall day. We walked around while we stopped at almost every corner so Chris could go to the bathroom. (He has IBS so you can imagine that was acting up!)
We eventually made our way to the Bean where we all took pictures. When it came time for Chris and I to take a picture, I gave his brother my phone and we got in front of the bean.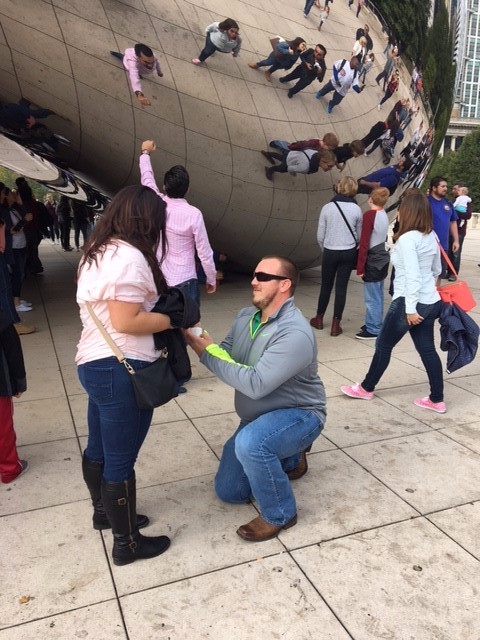 After we took our picture Chris got down on one knee. My first thought was GET UP! WHAT THE HELL ARE YOU DOING?! Then I saw the ring and pretty much forgot everything he said after that. It was perfect and I am so happy we have pictures to capture the moment. I'm also happy his sister-in-law wanted to get her nails done the day before!
Guys, make sure you have someone capture the moment!
The rest of the day was filled with family, friends and celebration. It was a day I will always cherish. As I went to bed that night my head was spinning with questions… Where to start? What am I suppose to do next? And of course..now I really need to lose all this college weight for real this time!
There is one thing I did leave out.. how Chris and I met. We tell people many different stories, but the truth is we are a TINDER couple!